28.09.2023
Berlin Hyp and Helaba to finance "Hofmann Höfe" project in Munich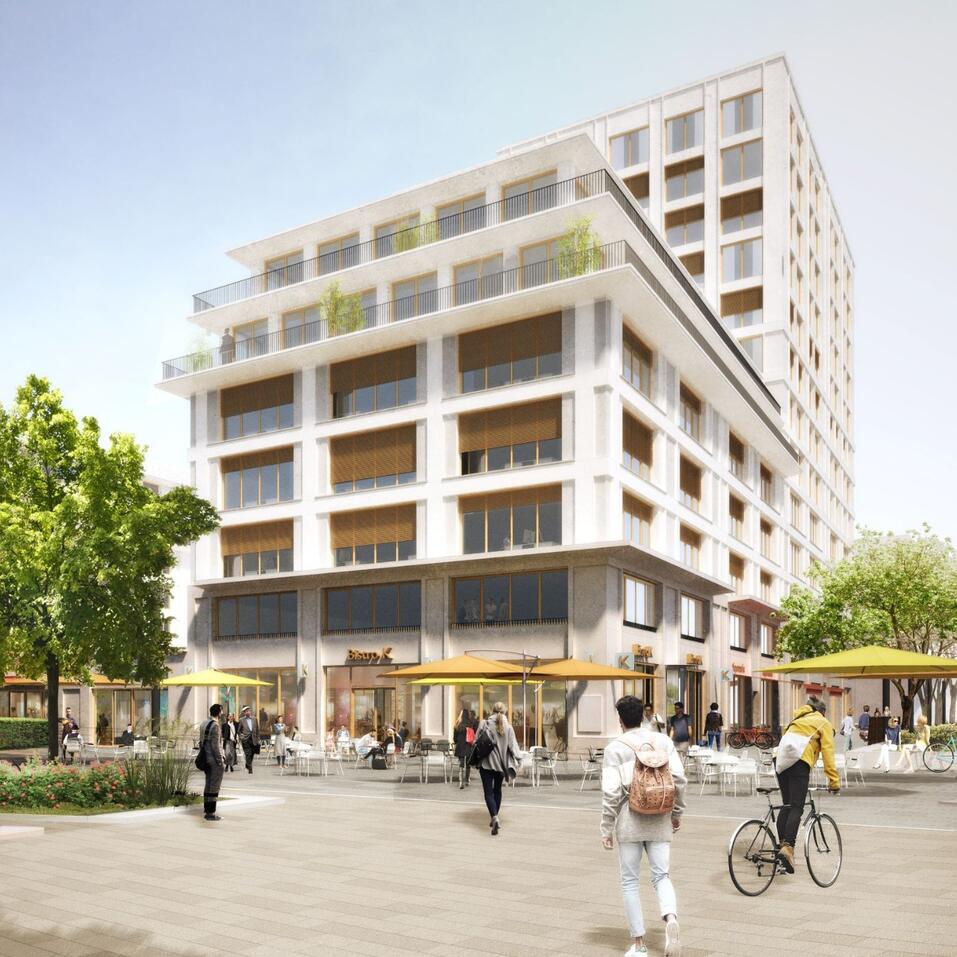 Berlin Hyp and Helaba Landesbank Hessen-Thüringen are co-financing the "Hofmann Höfe" project in Munich in equal parts for the Grünwald-based Rock Capital Group.
Munich's urban development has reached yet another new milestone: The successful financing of a groundbreaking project that will significantly expand residential capacity in the southern outskirts of the city to the west of the river Isar.
On a site with a total area of around 93,000 sqm, "Hofmann Höfe" has been conceived with the additional goal of facilitating the construction of subsidised apartments. In this way, it will make a valuable contribution to expanding the availability of affordable housing in the region. Together with the Rock Capital Group, Munich city council has paved the way for this innovative housing project. Its central location and proximity to local public transport mean it is an ideal site for this approved housing project. The development plan envisages the construction of modern living space that will create a sustainable environment for its residents and enhance their quality of life. Furthermore, it will integrate green spaces and community facilities that will help foster a vibrant and socially inclusive neighbourhood.
"We are delighted and honoured to be supporting our client, the Rock Capital Group, in realising its ambitious project. One of the real estate sector's most urgent challenges is to develop liveable housing. Thanks to the granting of a new building permit, it will be possible to develop high-quality living space on the attractively located "Hofmann Höfe" site along with the requisite infrastructure, which will improve people's quality of life and make a positive contribution to Munich's urban development," commented the partners in the financing consortium, Oliver Hecht (Head of Domestic Sales and Portfolio Management at Berlin Hyp) and Dr. Jan Peter Annecke (Head of Real Estate Finance at Helaba).
"We are extremely grateful for the tremendous support that Berlin Hyp and Helaba have provided us with for this project - one that is vitally important to the future of Munich and its residents. The fact that we are able to play our part in increasing the availability of urgently needed additional living space in Munich by developing Hofmann Höfe, particularly in these challenging times, fills us with an enormous sense of pride. The Hofmann Höfe project is located in the Munich district of Obersendling and is set to comprise 1,400 new apartments, of which 550 will be social housing, in addition to approx. 17,000 sqm of office, retail and restaurant space with a total floor area of around 155,000 sqm. The planning process and the subsequent initial construction phase, which will include some 450 rental apartments and an integrated childcare facility, got underway as recently as the third quarter of 2023. In realising this project together with our financing partners, we are making an important contribution to transforming the industrial belt of Obersendling into an attractive city neighbourhood with a well-balanced mixture of residential and commercial space," said Christian Lealahabumrung and Peter G. Neumann, both managing partners of the Rock Capital Group.