30.05.2022
Helaba refinances "Quartier 205" for Tishman Speyer in Berlin
Landesbank Hessen-Thüringen assumes EUR 250 million financing of this premium prime location property in Berlin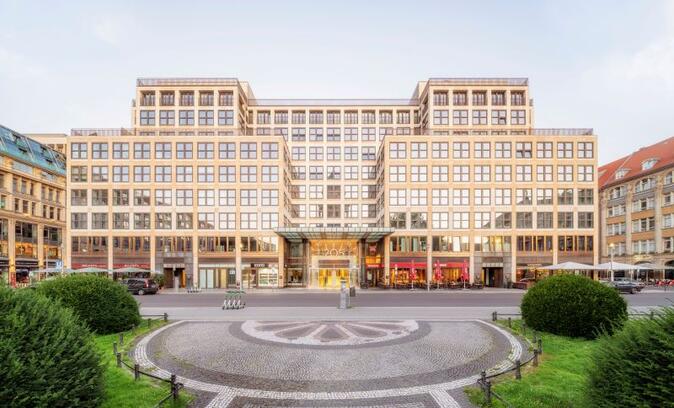 Helaba is refinancing the "Quartier 205" urban quarter in the heart of Berlin for Tishman Speyer. The EUR 250 million loan has a term of ten years and Helaba will assume full underwriting of the financing while syndicating a portion of the amount.

"Quartier 205" is a mixed-use property located between Friedrichstrasse and Gendarmenmarkt in Berlin-Mitte and has around 52,000 sqm of rental space and 484 parking spaces. Whilst two-thirds of the asset is used as office space, it was originally developed by Tishman Speyer in the mid-1990s as a building to serve as a dynamic mixed-use experience comprising working, living and shopping in the historic centre of Berlin. Infrastructure and public transport access are exceptionally good given its location right next to the Stadtmitte subway station.

Importantly, the credit facility includes an innovative social impact feature whereby the bank and the investor make a matching contribution to a selected local charity on an annual basis. This innovative partnership is the fourth of its kind for Tishman Speyer and its Tishman Speyer European Core Fund ("TSEC"), a fund promoting environmental and sustainable characteristics under Article 8 of the European SFDR regulations. It builds on numerous positive ESG initiatives undertaken by the company in recent years, seeking to make a positive societal contribution in challenging times.

Fritz Müller, Head of Real Estate Finance Germany Regions at Helaba, is delighted with the transaction: "I am very grateful for the renewed trust placed in us by our client Tishman Speyer with the financing of "Quartier 205". This deal is a confirmation of our strong and long-standing association and we see it as an endorsement of our distinctive approach to relationship banking at Helaba."

Johannes Schmarje, Managing Director overseeing Tishman Speyer's Berlin operations said: "This refinancing extends for years to come our commitment to the Berlin real estate market where we began our activity over 25 years ago with this very building. We are grateful to Helaba for their continued support and are pleased to be reinforcing the strong and sustainable relationship we have built with them over the years."

Tishman Speyer wurde von Taylor Wessing, die Helaba von Simmons & Simmons LLP beraten.