06.10.2021
He­la­ba to finance 23 LINT 41 diesel multiple units (DMUs) in­clu­ding re­furbish­ment for Hessische Landesbahn
The 23 DMUs will be leased to HLB by DAL Deutsche Anlagen-Leasing as part of a long-term leasing agreement. The fuel-efficient diesel railcars already comply with the strictest EU Stage V emissions standard and will help to reduce high emission motorised private transport.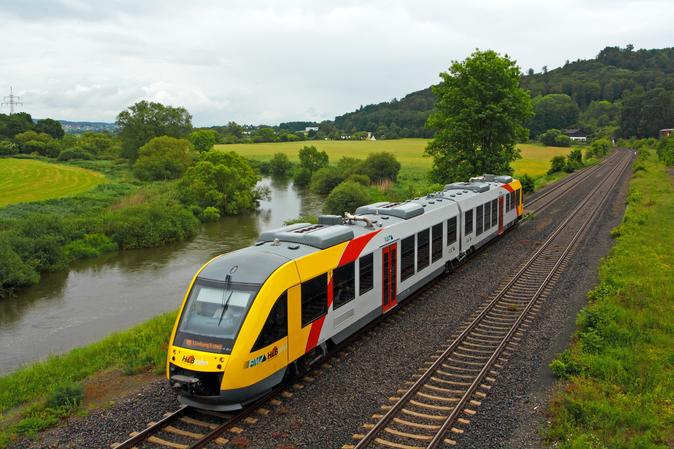 Hessische Landesbahn (HLB) has emerg­ed as the suc­cess­ful bid­der in a Eu­rope-wide com­pet­it­ive ten­der­ing pro­cess, en­abl­ing it to con­tinue operat­ing the Lahn­tal-Vogels­berg-Rhön net­work (LVR network) for another 15 years from De­cem­ber 2023. He­la­ba Landes­bank Hes­sen-Thü­ring­en will be lend­ing its sup­port to HLB by fi­nanc­ing the ful­ly re­fur­bish­ed Al­stom LINT 41 light rail ve­hicles that will be de­ploy­ed on the route. The 23 DMUs will be leas­ed to HLB by DAL Deu­tsche An­la­gen-Leas­ing as part of a long-term leas­ing agree­ment. The fuel-ef­ficient die­sel rail­cars al­read­y com­ply with the strict­est EU Stage V emis­sions stan­dard and will help to re­duce high emis­sion mo­toris­ed private trans­port.
"This is now the third pro­ject in a row that we have realis­ed as lead ma­nager or fi­nanc­ing part­ner with and for our long-stand­ing cli­ent HLB", says Mar­tin Metz, Head of Land Trans­port Fi­nance at He­la­ba, in sum­ming up the deal. Veit Salz­mann, Ma­nag­ing Di­rec­tor of Hes­sische La­ndes­bahn GmbH, explains: "Once again, our col­lab­o­rat­ion with He­la­ba and DAL has prov­ed to be very con­struc­tive and pro­fes­sional. The time­frame for the clos­ing was me­tic­ulous­ly ad­her­ed to."